English lessons for adults
Beginner's English Classes for Ukrainian Families
Further information available at: Digital learning from Comhairle Nan Eilean Siar | e-Sgoil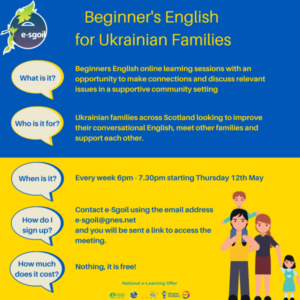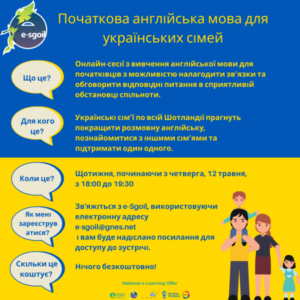 ESOL means "English for Speakers of Other Languages".
Facebook: A new Facebook page has been created under Learning English in Aberdeen.  They are inviting everyone to befriend this page to receive notifications and news regarding available resources to learn or practice English in Aberdeen. Organised by GREC (Grampian Regional Equality Council) 
ESOL for Work – These English classes are aiming to help people to improve their employability (improve their English for work)  and learn about the world of work in Aberdeen and Scotland. Courses run all throughout the year and in order to register your interest you can email info@grec.co.uk or alternatively follow us on Facebook at Learning English in Aberdeen (Link: https://www.facebook.com/LearnEnglishAberdeen/
SUNNYBANK COMMUNITY CENTRE 
Classes for Beginners and Improvers English
Contacts:
NORTH-EAST SCOTLAND COLLEGE run full and part-time ESOL courses (English for Speakers of Other Languages)
INTERNATIONAL HOUSE is a private English school in Union Street, Aberdeen.  They run a variety of courses.
ABERDEEN UNIVERSITY LANGUAGE CENTRE run part-time General English classes, as well as IELTS courses.
POLISH ASSOCIATION run English classes.
LEARN ENGLISH ONLINE
You can get free email lessons on the British Council ESOL Nexus website.  "Improve your English with help from this free website from the British Council with videos, listening activities, texts and grammar exercises for ESOL learners at every level."
Agenda Web – Lots of online vocabulary and grammar exercises
Here are other useful websites to learn English:
And here are some useful websites to prepare for interviews:
Dicts.info is a free dictionary project which offers a number of resources including: